March 2022
Saving the planet One Micro-Grid at a Time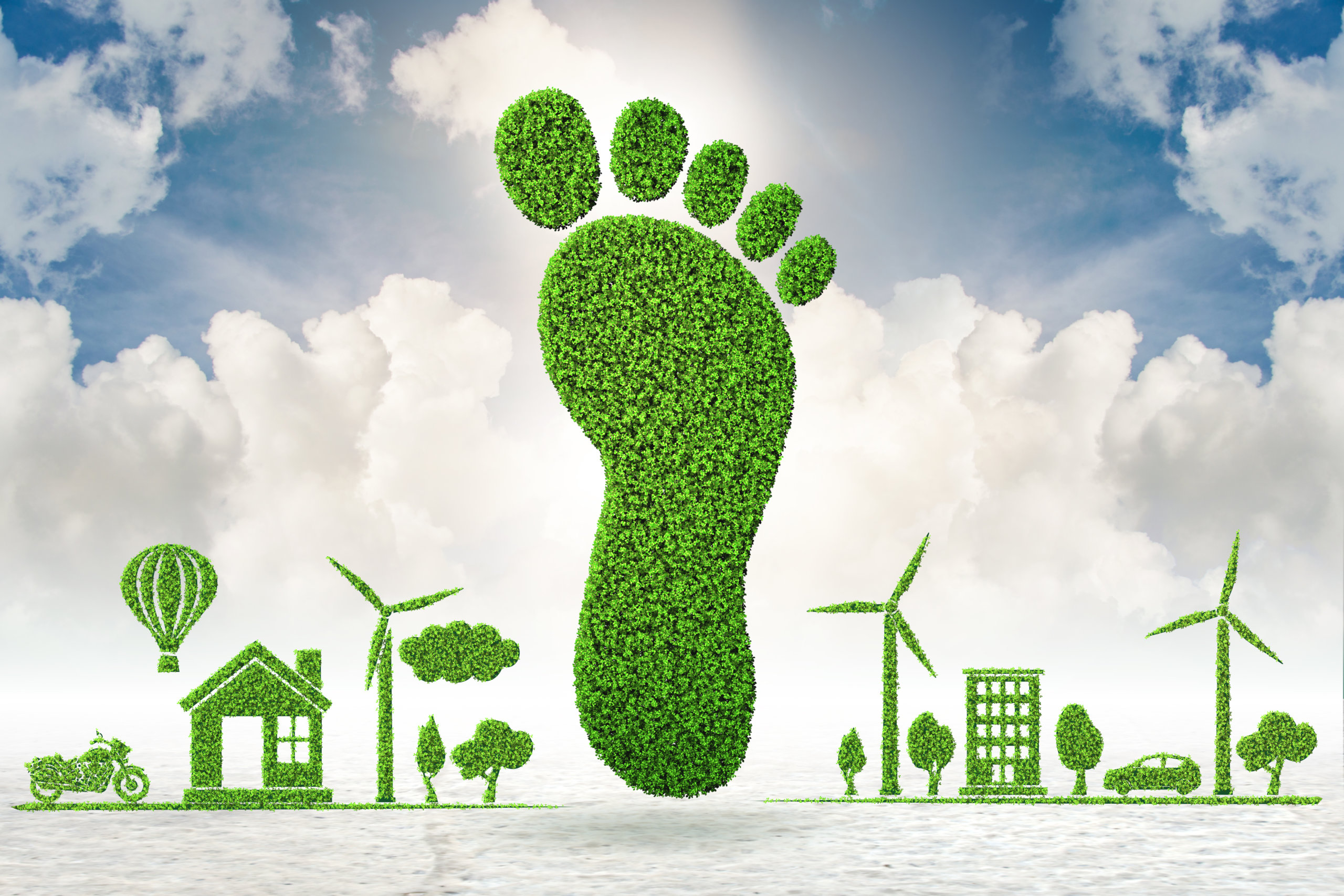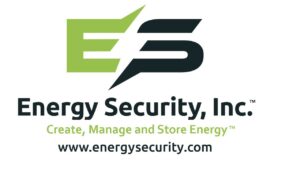 Saving the planet, one Micro-Grid at a time
March 2022
Energy Security, Inc.™ Is all about providing true Energy Resiliency for its clients. We like to think we are helping save the planet, one Micro-Grid at a time. The clients we've been helping turn their home automation dreams into reality but still have a problem; high energy bills and an unreliable utility grid. All that wonderful stuff; Large estate properties, pools, hot tubs, saunas, whole house audio, home theaters, music studios, security cameras, etc. tend to use prodigious amounts of power which translate not only into exorbitant energy bills but a large carbon footprint to match. Even though you might not flinch at the energy bills, it certainly isn't very "green" to be consuming mass quantities of energy. Many of our clients also don't want to sacrifice their lifestyle and seek energy solutions that enable them to actively take part in reducing their greenhouse gas emissions.
When we were developing our BAM Micro-Grid™ solutions to lower the operating costs of your property, in the back of our minds we knew we could deliver on our client's desire for always on blinkless power while still helping Dear old Mother Earth at the same time. I know what you're thinking; "Anyone can put up some solar panels." Yea, we know, but solar alone, even with batteries, doesn't cut it, yet. A lot of Solar users are still surprised to learn their power goes out when the public grid goes down. Our clients are a special breed, they don't want to be left at the mercy of the sun or even the public utility grid. They need reliable, clean power 24/7/365 and they need it in amounts that make renewable sources such as solar and wind even with battery storage even more critical as part of a complete solution.
What was needed was an integrated approach that ensured "Energy Security" no matter the situation. That's why we've come up with an entirely new approach to residential power, something that's never been done on a small scale but has been proven safe, reliable and cost effective in industrial use. We call it the Interactive Energy GridTM. We developed an intelligent and opportunistic control system to oversee the production and use of the electrical power (Kilowatts) and Heat (BTU's) necessary to operate a large residence.
A typical "micro-grid" is a small energy system capable of balancing captive supply resources with the demand to maintain stable service within a defined boundary. ESI's Interactive Energy GridTM incorporates an intelligent control system that is opportunistic in nature. This Power Management System oversees both an electrical power grid and a thermal grid producing both KWH's and BTU's. We do this using state-of-the-art technology and components to provide unparalleled efficiency and reliability.
Energy Security, Inc's Interactive Energy GridTM
Thermal Distribution and Management Component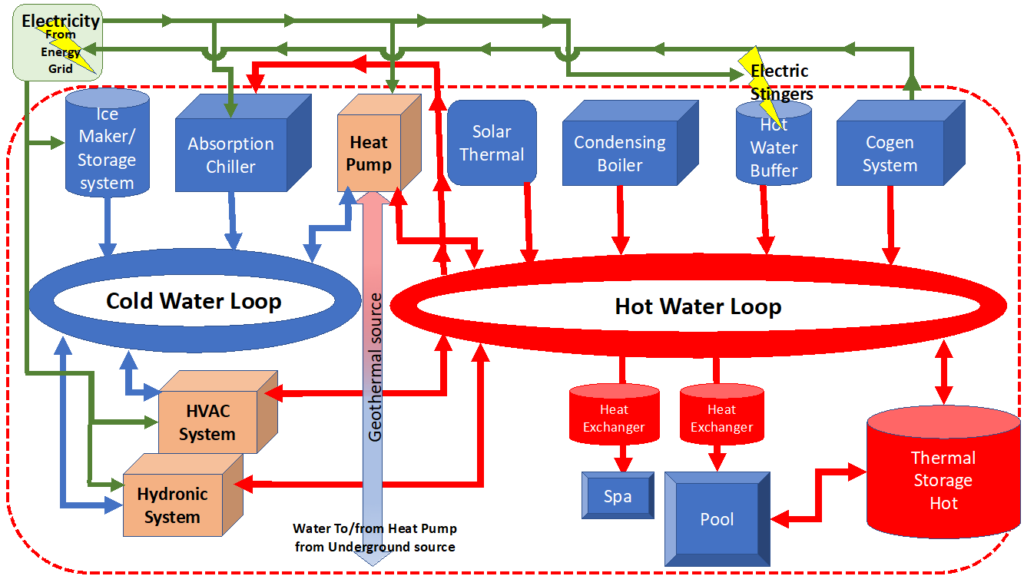 By "intelligent and opportunistic"", we are referring to the Artificial Intelligence software that ESI developed to oversee the operation of your Interactive Energy GridTM. This Power Management System uses AI to decide what power source to use as well as when and how to use it.
The cornerstone of the Interactive Energy GridTM is a small Cogeneration (CHP) plant. Cogeneration (AKA: Combined Heat and Power systems – CHP)). is an energy conversion system that allows the simultaneous production of electricity and hot water.
The heat produced by the internal combustion engine that turns the electrical generator, which is normally wasted by conventional generators, is used to produce the thermal energy necessary to provide hot water for heating theswimming pool, domestic hot water needs, radiant heating and the HVAC system. The Cogen systems use clean burning Natural Gas or Propane and are almost three times more efficient (33% vs 88%) than power obtained from the public utility or a standby generator making them a very "green" and economical power source in homes with a high demand for hot water.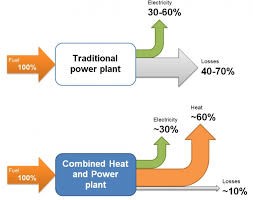 The CHP is a reliable, efficient and economic means to produce electricity and heat 24/7/365 but is only one energy producing source in the Interactive Energy GridTM. Using state-of –the-art bi-directional, dual conversion inverters our system can accept power from just about any source, AC or DC, to provide your home with clean, reliable AC power, including three phase if needed. This means we can use and optimize power from renewables such as solar and wind and geothermal as well as the public utility grid, batteries, Fuel cells and whatever else may be or become available.
Unlike "grid-tied" micro-grid systems the Interactive Energy GridTM doesn't shut down when the public grid does, it can "island" itself to run completely free of the public grid as many of our Off Grid clients do. The Interactive Energy GridTM isn't "grid-interactive" either as we do not feed power back to the public grid like most traditional solar systems do. The Interactive Energy GridTM draws power from the public grid only if it's more economical to do so (i.e., when rates are at their lowest in the middle of the night) or when in rare circumstances, more power is needed than is produced.
The more conversations we have with Architects, General and Electrical contractors, Mechanical engineers and solar providers, the more they realize how unique we approach these energy challenges nad are eager to work with us on their projects. I'll be writing about some of the Interactive Energy GridTM projects we have installed in future posts.
We love talking about this stuff, so if you'd like to know more about ESI's Interactive Energy GridTM and how it might be applicable in your project please contact us.